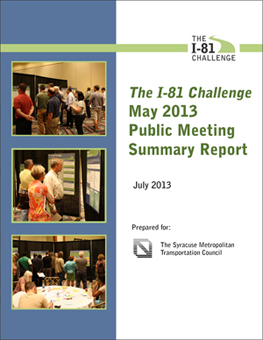 May 2013 Public Meeting Summary Report now available
In May 2013, the Syracuse Metropolitan Transportation Council (SMTC) and the New York State Department of Transportation (NYSDOT) hosted the third public meeting for The I-81 Challenge  – one of several steps to the official decision-making process for determining the future of the 12-mile I-81 corridor through the greater Syracuse region.  This meeting provided the opportunity to learn about the results of the I-81 Corridor Study before the state and federal environmental review phase begins.
Over 700 people participated in the in-person public meeting, and 334 people participated in the virtual meeting on-line.  Information about the meeting, including the material presented and the feedback that was received, has been summarized in the May 2013 Public Meeting Summary Report, now available on the project website.
The May 2013 public meeting was the third and final large-scale public meeting held as part of a series of workshops and meetings since 2011 for The I-81 Challenge planning study.  The significant amount of valuable input that was gathered as a result of the 2013 meeting will inform how to best move the I-81 process forward for the Syracuse region.  Additionally, meeting attendees' feedback on the initial concept renderings will provide valuable insight for consideration as strategies are further refined and developed.
In the coming weeks, SMTC will also publish a white paper that will highlight the community involvement that has occurred as a result of The I-81 Challenge since the fall of 2011, include all public comments received by the SMTC since that time.  If you would like your comments documented within this final white paper, please submit them via email to contactus@thei81challenge.org by August 9.   Comments received after this date will be forwarded to NYSDOT as part of the transition to the environmental review process.  Going forward, you may contact NYSDOT directly at I81Opportunities@dot.ny.gov.
Click here to learn more about The I-81 Challenge.