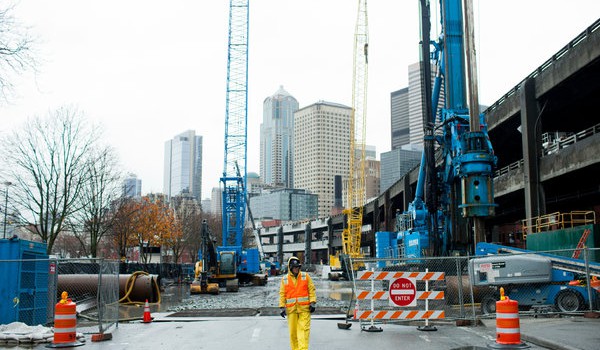 Seattle's waterfront will soon undergo a transformation from an area long rooted in the city's industrial past to a destination expected to become one of the city's greatest assets.  This transformation is due to the Alaskan Way Viaduct Replacement Project that includes the construction of a 1.8 mile big-bore tunnel, an updated sea wall buttressing the piers, the demolition of the Alaskan Way Viaduct, and an improved city grid expected to increase connectivity.
While it will undeniably take years of construction to complete the project, the city has worked hard to mitigate any disturbances to nearby residents and business owners.  Traffic disruptions have been minimized because the demolition of the Viaduct will not occur until traffic can be redistributed to the completed tunnel in December 2015.  To help combat any commercial disruptions, city and state officials are hoping the construction itself will attract tourists excited to witness such a ground-breaking engineering project.  This "Construction Experience", a term coined by the Seattle Department of Transportation's Jennifer Wieland, could be enhanced with construction-inspired art projects and educational or viewing portals throughout the area.
The heightened awareness of the devastation natural disasters can cause to cities in the wake of Hurricane Sandy has increased many residents' acceptance of disruptions because the project will help prepare Seattle for such an event.  The demolition of the Viaduct will prevent it from collapsing during an earthquake, as it's currently predicted to do, and the seawall has been designed to be earthquake-conscious.
Matthew D. Preedy, an engineer and manager at Washington State Department of Transportation (WSDOT), is overseeing the project and is managing people's expectations as to how much disruption will occur while also drumming up excitement for the inaugural ceremony in March 2013.  This ceremony will celebrate the arrival of the giant tunnel-boring machine which will allow the tunneling process to begin.
Click here to learn more about the construction.
Photo by The New York Times.