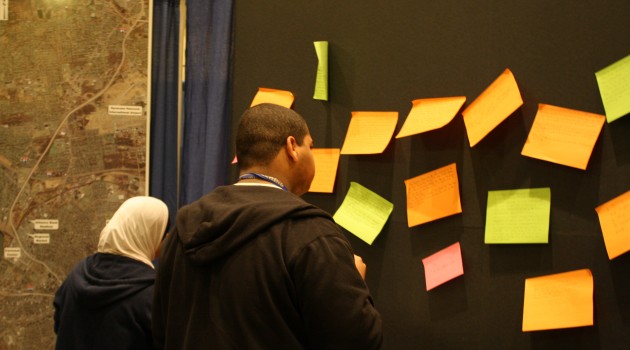 One of the best ways to prepare for a meaningful dialogue about the future of I-81 is to understand the highway's history. You can learn more about the history of the highway by watching a short video, The Evolution of Transportation in the Syracuse Region.
Personal memories are another important part of the history of I-81. At our first round of public workshops, members of the public shared their stories about I-81. Here are a few examples of what we heard:
- I use I-81 to commute to and from work. I was around when I-81 was constructed, along with the Onondaga Interchange with I-690. I feel that it should be improved to include additional lanes, car-pool lanes, better lighting, and better signage.
- When I was 12 years old my family moved to Syracuse, around 1964.  My dad worked on I-81.  He would drive us down to see the piles and piles of debris that used to be people's homes.  At the time, Salina Street and Warren Street had stores like Grants, Woolworths, Day Brothers and many more.  After they opened I-81 the city of Syracuse became a virtual ghost town for retail.
- I remember driving down I-81 from Pulaski to Little York for my family reunion when I was young, 12 or 13 years old. My aunt and uncle oohed and aahed about how much easier the trip had become.
- My earliest memories of I-81 were seeing the blinking lights of Syracuse as we crested the hill by the Nation returning from some hockey game down south.  It was a nice view and a nice feeling, knowing we were just about home.
- I was a college student 1962-66 working with children at the church on East Genesee Street in the 15th Ward.  I experienced losing my family's home and neighborhood to eminent domain.  I felt the I-81 project was wrong on many levels.  I have hated that it split downtown from the beginning. I wish the construction of I-81 was stopped in Syracuse, and I hope that the highway will be removed from downtown.
- I used I-81 to get back and forth to school in Maryland and when I lived there after college. The road was my enemy in Pennsylvania, but the view of the city that unfolds before you just as you come around the bend at the Onondaga Nation Territory will always be special to me – it meant I was home.  Still, I am not a fan of how I-81 splits the city.
- I remember the protests and court battles by people in the 15th ward trying to save not only their neighborhood, but also the strong culture that bonded them together.
Do you have any stories or memories to share? Participate in The I-81 Challenge virtual workshop to share your story and see more of what others have said.