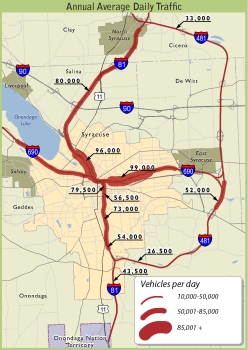 This is the sixth in a series of blog posts that highlight findings from NYSDOT's draft Technical Memorandum #1: Physical Conditions Analysis (Tech Memo #1).  To read other blog posts in the series, click here.
Traffic volume data were gathered from various vehicle count locations and time periods along the I-81 corridor to determine trends and peak travel periods, as well as develop traffic volume diagrams for highways in the primary study area.
-          Between 1974 and 2003 traffic increased on I-81 at an annual rate of 3.3-5.4%. Since 2003 there has been little if any growth in traffic.
-          July and August have the highest traffic volumes, while January and February have the lowest.
-          Heavy vehicles (trucks with at least 4 axles and buses) account for 9% of total traffic during the morning rush hour and 8% during the evening rush hour.
-          Average annual daily traffic (AADT) in the [primary study area] ranges from about 43,000 to 99,000.
-          About 45,000 vehicles per day get on or off I-81 at the Adams/ Harrison Street ramps
To read more about traffic volumes on I-81 and the region's highway network, check out the full report for Tech Memo #1, or the summary document, at www.theI81challenge.org.