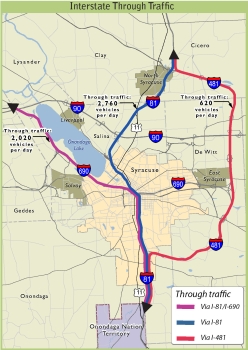 This is the seventh in a series of blog posts that highlight findings from NYSDOT's draft Technical Memorandum #1: Physical Conditions Analysis (Tech Memo #1).  To read other blog posts in the series, click here.
An analysis was done April 2010 to understand how much I-81 traffic is passing through the Syracuse region on the interstate system.  This information is useful for understanding how much traffic is using or could use alternative interstate routes to bypass the Syracuse region.
Data were collected for three through-traffic routes: taking I-81 from I-481 on the north to I-481 on the south and vice versa, taking I-81 to access I-90 via I-690, or taking I-481. The data were collected on a weekday in April for 24 hours by placing Automated License Plate Reader (ALPR) cameras on I-81 both north and south of the I-481 interchanges, on the I-690 ramps to and from I-90 and on the I-481 ramps on and off I-81. As each vehicle passed the camera locations, the license plate number and time was recorded. The license plates entering the area were then matched at each of the exit locations to determine the volume of traffic passing through the region without stopping. The license plates of 86% of the vehicles entering or exiting the area were captured. The results were then factored to reflect 100% of the entering or exiting traffic volume, based on traffic counts conducted at these locations.
The analysis revealed that:
1. There are 44,000 total vehicles per day on I-81 south of the southern I-481 interchange (Exit 16A).
2. Of these 44,000 total vehicles, 12% (5,400 vehicles per day) are currently traveling through the region without stopping.  This includes:
- 6% of the 44,000 vehicles (2,760 vehicles per day) traveling through the region on I-81.
- 5% of the 44,000 vehicles (2,020 vehicles per day) traveling through the region via I-81 and I-690 to/from the Thruway (I-90).
- 1% of the 44,000 vehicles (620 vehicles per day) traveling through the region on I-481.
These results suggest that diverting regional interstate through traffic to I-481 or other alternative interstate routes will have little impact on traffic volumes or operations on I-81 within the primary study area. Additional traffic data is likely to be collected to assist in the assessment of different options for I-81.
To read more about how vehicles are using I-81 and the region's highway network, check out the full report for Tech Memo #1, or the summary document, at www.theI81challenge.org.