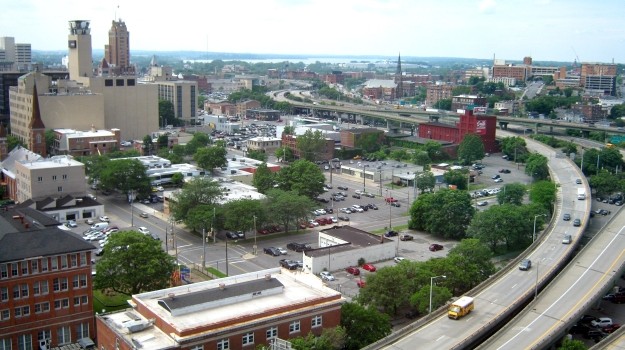 This is the ninth in a series of blog posts that highlight findings from NYSDOT's draft Technical Memorandum #1: Physical Conditions Analysis (Tech Memo #1).  To read other blog posts in the series, click here.
When I-81 was constructed in the 1950s and 1960s, highway design standards were different from today. Based on current design standards, there are significant portions of I-81 in the primary study area that are non-standard or non-conforming, especially in the general vicinity of the I-81/I-690 interchange and at the adjacent interchanges with local streets. Non-standard or non-conforming features include poor sight distances, sharp curves, and limited ramp spacing.
These interchanges are all closely spaced and have complex layouts in order to allow access to and from downtown. The study found that highway sections not meeting current design standards generally coincide with areas of increased [congestion] and high [accident rates].
To read more about how current design standards relate to I-81, check out the full report for Tech Memo #1, or the summary document, at www.theI81challenge.org.