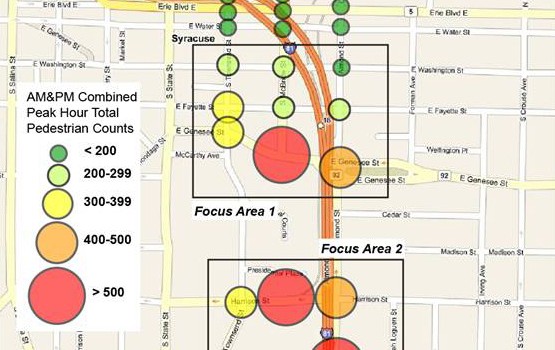 This is the eighth in a series of blog posts that highlight findings from NYSDOT's draft Technical Memorandum #1: Physical Conditions Analysis (Tech Memo #1).  To read other blog posts in the series, click here.
Pedestrian count data were collected in a focused area along the viaduct during November and December 2009 and February and March 2010. Within this area pedestrian traffic was greatest on Harrison Street between Almond and Townsend Streets, at the intersection of East Adams and Almond Street, and at the intersection of South McBride and East Genesee Street.
The evaluation also documented a number of bicycle facilities and multi-use trails located within the [primary study area], including on road bike lanes and off road trails such as the Onondaga Creekwalk, New York State Canalway trail and Bear Trap Creek Trail.
To read more about the pedestrian and bicycle environment around I-81, check out the full report for Tech Memo #1, or the summary document, at www.theI81challenge.org.